The quinoa seeds, known as the "golden grain of the Andes," have gained popularity worldwide due to their numerous health benefits and culinary versatility, especially in their uses for nutrition and nutraceuticals.
This ancient seed has been cultivated and consumed for centuries in South America, and its nutritional value and therapeutic properties make it an essential ingredient in the modern diet. It is interesting to explore the nutritional composition of quinoa seeds, their therapeutic properties, different forms of consumption, and their applications in the food and cosmetic industry.
Nutritional composition of quinoa seeds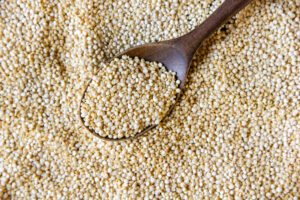 Quality proteins:

Contains the nine essential amino acids that the body needs.
They have high digestibility and bioavailability.

Nutrient-rich fiber:

Promotes digestive health and weight control.
Helps regulate blood sugar levels.

Essential vitamins and minerals:

Vitamins: B y E.
Minerals: Iron, Magnesium, Phosphorus, and Zinc.

Powerful antioxidants.

Protects the body against oxidative stress and free radicals.

Healthy fatty acids.

Omega-3 and other beneficial fatty acids for cardiovascular health.

Quinoa seeds are a true nutritional treasure that offers a perfect balance of essential nutrients for your well-being!
Therapeutic properties of quinoa seeds
Quinoa seeds offer a wide range of beneficial therapeutic properties for health. Its high fiber content promotes healthy digestion and can contribute to weight control. Thanks to its low glycemic index, quinoa is an excellent choice for people looking to regulate their blood sugar levels. It has also been shown that quinoa contributes to cardiovascular health. In essence, the most notable therapeutic properties are:

DIGESTIVE HEALTH: promoting healthy digestion, preventing constipation, and improving gut health.
CARDIOVASCULAR HEALTH: helping maintain healthy levels of cholesterol and triglycerides, as well as contributing to reducing blood pressure.
ANTIOXIDANT PROPERTIES: combating oxidative stress and protecting the body from damage caused by free radicals, acting as a preventive agent against chronic diseases.
WEIGHT CONTROL: being a satiating seed due to its fiber content, and also contributing to maintaining stable blood sugar levels.
ENERGY AND VITALITY: being a source of sustained energy due to its complex carbohydrate content, which also contributes to improving mental and physical performance.
How to consume quinoa seeds
Quinoa seeds can be prepared in various ways in the kitchen. Before consumption, it is important to wash them to remove any bitter residue called saponin. Once the seeds are cleaned, they can be cooked by boiling, steaming, sautéing, or even used in the form of flour for baking purposes.
Quinoa is a versatile ingredient and can be used as a base for salads, a side dish for main courses, vegetable fillings, or even in smoothies and desserts.

Recommendation: Quinoa can be combined with various ingredients, and we recommend that you try cooking it in different ways to experience its flavor and make the most of its properties, whether in cold or hot dishes, such as salads or stir-fried vegetables, to create a balance of flavors and textures.
How quinoa seed is applied in the food and cosmetics industry
Quinoa seeds have found their place in the food industry as a highly nutritious and gluten-free ingredient, and they possess various qualities that make them a standout product in the industrial sector.
Versatility of application:
It is used in the production of food items such as cereals, energy bars, pasta, bread, and bakery products. Its mild flavor and pleasant texture make it easily incorporable into a variety of products.
Nutritional value:
Its exceptional nutritional properties, such as its high-quality protein content, fiber, and essential minerals, make it a highly valued ingredient for the production of healthy and high-quality food.
Alternative carbohydrate:
Furthermore, quinoa is an excellent alternative to rice and pasta in the preparation of main dishes. You can incorporate it into gluten-free baked goods such as bread and cookies to cater to an increasingly wide market segment that seeks gluten-free options that are rich in nutrients.
Alternative to dairy:
It is also used in the production of plant-based milk and beverages, offering a nutritious and flavorful alternative for those seeking dairy alternatives.
Cosmetic use:
Quinoa oil, rich in essential fatty acids and antioxidants, is used in the production of skincare products such as moisturizers, lotions, and serums due to its properties that promote hydration, softness, and protection. It is also used in hair care products to nourish and strengthen the hair, reducing damage caused by oxidative stress.
Sustainable production:
Its cultivation requires less water compared to other cereals, making it an environmentally friendly choice.
If you're looking to supply large quantities of quinoa seeds for the production of your food products, Qomer can offer you customized solutions to meet your needs. We have a strong supply chain to ensure a consistent and high-quality supply.
Choosing quinoa seeds is a way to promote healthy and nutritious foods.
Take advantage of everything quinoa can do for you!