Rosehip oil is extracted from the seeds of the species Rosa Rubiginosa, Rosa Canina or Rosa Moschata. It is a vegetable oil rich in essential fatty acids which can help us stimulate renewal of our epidermis and smooth our skin. This is why it is sometimes referred to as one of the secrets to eternal youth. In today's blog post, we will sum up its main benefits as well as the uses you can give to the amazing rosehip oil.
What is rose hip?
Rosehip (Rosa affinis rubiginosa L.) is part of the rose family with more than 2,500 other trees and fruit bushes. It is a wild shrub native to central Europe that can reach 2 meters in height and is covered with purple thorns. With thin and flexible branches, it has a pink 5-petal flower which is very attractive.
It contains a very balanced composition of essential fatty acids such as omega 3, 6 and 9, and vitamin A and C, which makes it a perfect ally for dry skin and skin spots. De hecho, el 80% de las semillas lo forman estos ácidos grasos poliinsaturados y el resto es mayoritariamente agua.
In addition, thanks to its presence of beta-carotene and bioflavonoids, rosehip extract is good for eyesight, helps us maintain good health, and regulates intestinal flora.
How is rosehip oil obtained?
From the seeds of the rosehip we obtain its well-known oil. It is an extract with great medicinal properties and great benefits for our skin.
The seeds of the rose are what we call rosehip and can be found inside the fruit of the flower. The fruit of this wild shrub look like small red or orangey balls which grow right below the petals.
Opposite to rose oil, which is obtained from the petals alone, rosehip oil comes from the cold pressure of its seeds.
We can also create oleate or macerate the rose petals through a much simpler process that we can even try at home. It consists on leaving rose petals in pure almond oil in order to get an ointment. An ointment will always be less pure than an oil or extract, but in this case it will have almost the same benefits as the rosehip oil you can buy at the drugstore or at any cosmetic store.
What properties does rosehip oil have?
Rosehip oil or rosehip extract has very beneficial dermatological properties for our skin. They could be summarized in this list of benefits:
Skin cell regeneration
Strengthens the immune system
Accelerates healing and is epithelizing
Minimizes skin blemishes
Prevents and conceals stretch marks
Powerful anti-aging effect
Reduces acne marks on the skin
Improves blood circulation
Helps even out skin tone
Provides nutrition and hydration
It is perfect for sensitive skin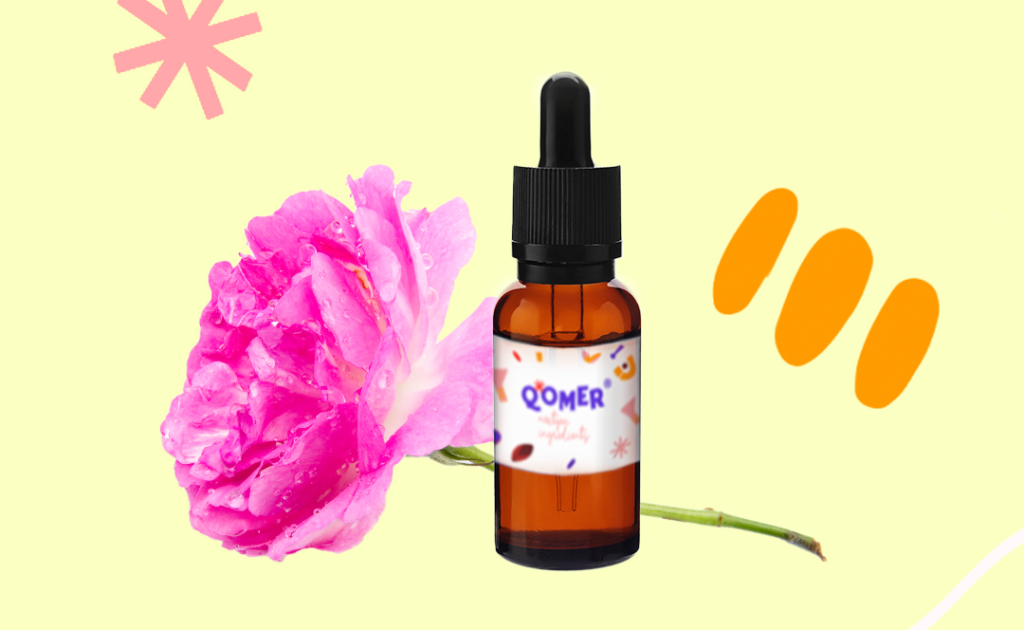 The uses that can be given to this incredible oil are endless. In fact, It is already applied in the form of temporary tattoos that cover and help treat scars.
And you must be thinking that this long list seems very interesting, but do you know where and how you should apply it to get these incredible benefits?
How can I use the rosehip oil?
Rosehip oil can be applied directly to the skin due to its mildness. After doing your facial cleansing, you can apply a couple of drops to your clean hands and apply it to your face with upward movements.
Being a dry oil, the skin absorbs it very easily and without leaving any residue. Another very common way to apply it is in combination with your daily use moisturizers.
When we consider applying it to different areas of the body, it is necessary to understand how to apply it and with what objectives or goals.
Facial – apply a couple of drops of oil to your face and neckline with a light upward massage. It is also perfect for preventing dryness and annoying little skin on our lips, don't forget them in your facial routine! In fact, it is also recommended to prevent crow's feet.

On scars, stretch marks or blemishes – this wonderful oil is the perfect remedy against these annoying skin marks or blemishes. Repairs scars, soothes any irritation and reduces skin blemishes.

Any other part of your body – rose hip oil gives you luminosity and elasticity and helps you keep your skin perfectly hydrated. Provides hydration and nutrition, and many other benefits for your skin.

On the scalp– if you notice dryness or feel that your scalp is damaged, you can apply a couple of drops of oil before washing it. Give yourself a gentle massage for a couple of minutes, then lather up as usual. If it's not enough, you can leave it on overnight by covering the hair with a plastic wrap and then proceed with your washing routine.

On your hair – Wash your hair and when it is wet, apply the oil to your scalp. It is perfect for providing it with the nutrition it needs and will help you renew it when it is damaged or lacks hydration.
Qomer can provide you with virgin or refined rosehip oil, also in its organic versions. With wholesale orders of at least 50kg, it is a perfect purchase if you work in the cosmetics sector and rosehip oil is an essential ingredient in your formulations.